Learn a Bit About the Folks at Creative Cabinetry
David Preaus, Owner
My family:
Wonderful wife, Susan, and terrific kids, Theodore, Noah and Hamilton.
My hometown:
The Big Easy
My passion:
The New Orleans Saints, Fly Fishing, Travel, Bridge, Cooking
Guilty pleasures:
Any food from New Orleans, Fantasy Football, Single Malt Scotch
Words I live by:
Laissez Les Bon Temps Roulez – "Let The Good Times Roll"
One thing I'll never do again:
Dance in front of 800 people wearing a semi-transparent silver lame shirt.
The food I could eat every day:
A shrimp Po-Boy from Domilise's dressed with brown gravy and Swiss cheese, a side of Oysters Rockefeller from Galatoire's followed by my mom's Crème Brulee.
Contributions to society:
Family & Intercultural Resource Center (FIRC) Board Member, Our Lady of the Peace, 2003 Ben Fogle Award Recipient (Summit County Chamber of Commerce), Silverthorne Town Council 2010-2014, Summit County Rotary Board Member, Dancer and Winner for Dancing with the Mountain Stars 2012, Summit County Youth Baseball and Softball Board Member.
Alma Mater:
Rollins College, BA in Economics
B.C.C. (Before Creative Cabinetry):
I started my life in Summit County as a bellman at the Keystone Lodge in 1992 and eventually moved to the front desk. After several years at Keystone I moved to the Village at Breckenridge where I held positions as the Front Desk Manager, Sales Manager and Director of Operations. In 1999, I moved over to Colorado Mountain Express where I held several positions including Director of Sales and Marketing.
---
Jacque Ball, Designer
My family:
Husband Greg King and dog-kids, Jasper & Louie.
My hometown:
Los Gatos, CA
My passion:
Mountain biking, jewelry making
Guilty pleasures:
Dark chocolate with peanut butter
Words I live by:
Running water doesn't freeze (referring to staying active while my body rebels)
One thing I'll never do again:
Eat beets
The food I could eat every day:
Good sourdough bread and Cabot cheese (throw in some yummy red wine)
Contributions to society:
Volunteering wherever and whenever I can for community events
Alma Mater:
West Valley College, Behavioral Science
B.C.C. (Before Creative Cabinetry):
Before coming to Summit County in 2002, I worked in the high tech industry for 10 years. Once I made a huge life change by moving here, I started out managing a bead shop then moved on to the Breckenridge Medical Clinic where I managed the front desk operations. I finally found my dream job and career with Creative Cabinetry. Now I'm the luckiest employee around!
---
Daniel Schaefer, Designer
My family:
Amazing partner, Jamie, along with our dog pack: Frosty and Lager Bones as well as our Nanday Conure, Romeo
My hometown:
A true Colorado Native, I was born and raised in Colorado Springs, Colorado.
My passions:
Enjoying everything the mountains have to offer, including snowboarding, skiing, hiking, camping, biking and walking the pups. Also, really enjoy participating in amateur Rally Cross Racing.
Guilty pleasures:
Snowboarding, Racing cars, Interior Designs to my own home, and traveling.
Words I live by:
Every day is another chance to do something great.
Contributions to society:
I try to help out in community any way possible. I am a big supporter of Hope for Animals, an organization that rescues dogs from kill shelters and finds them forever homes.
Alma Mater:
Western State College, Business
B.C.C. (Before Creative Cabinetry):
I made the big move from Gunnison to Breckenridge in 2012 and started working at a hotel as a front desk associate. After 2 years they closed down and I was able to pursue my dream job in the interior design field with MWA Designs. Since then I have been passionately designing clients dream kitchens and baths and loving every minute of it.
---
Paige Dalluge, Project Associate
My Family:
Furry adventure partner, Nugget.
My Hometown:
Mankato, MN
My Passions:
Hiking, Camping, Biking, Snowshoeing, Conservation, Photography, Snowmobiling, Live Music, SUPping.
Guilty Pleasures:
Natural Hot Springs, Champagne
Words I live by:
Be present in all things and thankful for all things
One thing I will never do again:
Cliff Jumping
Contributions to society:
Volunteering whenever I can in the community
B.C.C (Before Creative Cabinetry):
Prior to moving to Colorado, I worked in the exterior home improvement industry in Minnesota. When I made the move to Summit County in 2014 I continued my path in the industry, loving the versatility of it. I spent time working at a Custom Flooring company in Summit County and then one of Colorado's biggest General Contracting companies in Eagle County. Eventually I found myself in the cabinet specific industry at the best cabinet design center around, Creative Cabinetry!
---
Susan Preaus, Director of Marketing
My Family: My partner David and our three sweet boys Theodore, Noah and Hamilton
My Hometown: Rostraver Township, PA
My Passions: Yoga, Nordic and Alpine Skiing, Cycling, Golf and Parenting.
Guilty Pleasures: Manicure/Pedicures
Words I Live By: It's nice to be important, but it's more important to be nice
The Food I Could Eat Everyday: Pulled pork over tater tots
Contributions to Society: Walking dogs at the shelter, Our Lady of Peace Lector and Laundress, Teaching parenting and suicide prevention classes, Former PTSA President, Dillon Valley Elementary
Alma Mater: Villanova University, BA Psychology – University of Colorado Denver, MA- Counseling Psychology Counselor Education
B.C.C(Before Creative Cabinetry) : My first two jobs in Summit, were teaching ski school at the Peak 8 Children's Center and waiting tables at Jacksan's Sushi. I did a decade or so in customer service and front desk before going back to get my master's in counseling. For nine years, I worked as a Behavioral Health Specialist at the School Based Health Center through the Summit Community Care Clinic. I now have my dream job working with my husband and the fabulous team at Creative Cabinetry!
---
We owe our success to the incredible community in which we are blessed to live and work.  As a token of our appreciation we are glad to support several non-profit organizations that allow us to live and work in Summit County.  Please consider supporting The Rotary Club of Summit County, The Family and Intercultural Resource Center (FIRC), Summit Youth Baseball, The Cycle Effect, and The Summit Foundation.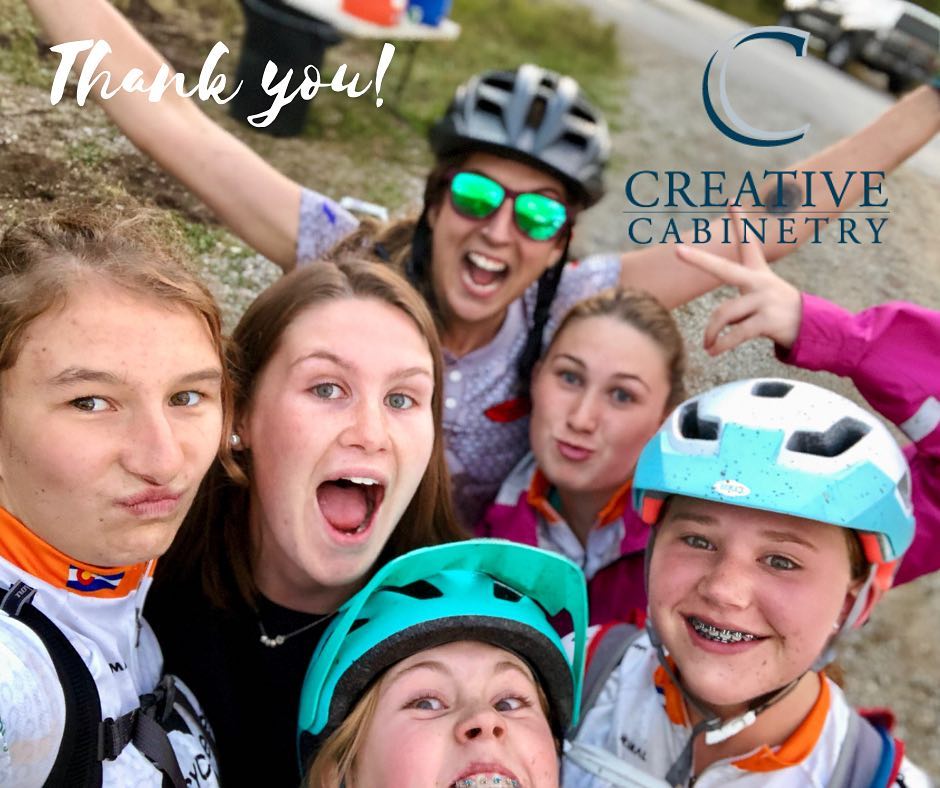 Creative Cabinetry's Affiliations